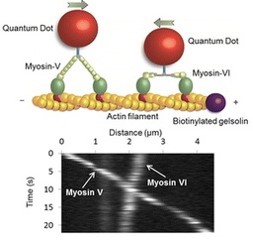 Keywords: molecular motors, myosin V, myosin VI, F actin, filaments, actin, polarized assay, shuttles, flexural rigidity, statistical mechanics, dielectrophoresis
Myosin V and myosin VI motors pass each other when walking along an actin filament in opposite directions.
PUBLICATIONS
Arsenault, M., Zhao, H., H., Purohit, P., Goldman, Y., and Bau, H. H., 2007, Confinement and Manipulation of Actin Filaments by Electric Fields, Biophysical Journal, 93, L42-L44.
Purohit, P., Arsenault, M., Goldman, Y., and Bau, H. H., 2008, The mechanics of short rod-like molecules in tension, International Journal of Non-Linear Mechanics 43, 1056-1063. doi:10.1016/j.ijnonlinmec.2008.05.009
Arsenault, M., Sun, Y., Bau, H. H., and Goldman, Y., 2009, Using Electrical and Optical Tweezers to Facilitate Studies of Molecular Motors, Physical Chemistry Chemical Physics 11, 4834-4839 (DOI:10.1039/B821861G).
Mark E. Arsenault, Prashant K. Purohit, Yale E. Goldman, Henry Shuman, and Haim H. Bau, 2010, Comparison of Brownian-dynamics-based estimates of polymer tension with direct force measurements, Physical Review E 82, 051923.
Yuan, Jinzhou; Pillarisetti, Anand; Goldman, Yale; Bau, Haim, 2013, Orienting Actin Filaments for Directional Motility of Processive Myosin Motors, accepted for publication in Nano Letters. DOI: 10.1021/nl303500k.
Collaborator:
Yale Goldman